According to a recent survey conducted by the US Census Bureau, the number of married active adults has significantly skyrocketed over the last five decades. Some of the key contributors to this process are factors like high marriage rates, increased populations, and a smaller age gap between married couples in the US. As a result, there's a significantly high demand for senior living options for couples today, especially among children who want to do their best to support their parents' senior lifestyle, mental well-being, and comfort needs.
It's also one of the key reasons why many retirement communities and active adult communities are gaining popularity in different parts of the country. The many available senior living options for couples aren't only housing situations but are also specifically designed to meet the lifestyle requirements of senior couples and their particular demands.
After all, it's never a good idea for a senior couple to live apart from one another, especially because of their changing needs for recreation and socialization, altering the dynamic of the house they're living in.
Fortunately, you can now choose from a wide range of senior living options for couples that'll cater to their health and well-being and allow them to spend quality time together without feeling lonely or isolated from the world. Here are some of the top senior living options for couples to check out.
Independent Living for Active Adult Couples
One of the first things to remember when considering different senior living options for couples is that not all elderly couples need hands-on care at all times. Most of them are active adults who are perfectly equipped to look after themselves and are ready to enjoy a new transition in life to relax and socialize in a senior living community.
There's no better senior living option for such couples than a retirement community that supports independent living. These are active adult communities with small homes, apartments, suites, and luxury condos, strategically located near home care facilities and service providers who can easily be reached out to when needed.
Apart from being one of the most luxurious senior living options for couples, there's a wide range of other factors that make them perfect for independent living among active adults. These senior living communities are equipped with features like smoke alarm systems, emergency alarms, hand-held showers, and more.
Furthermore, these retirement communities offer the complete living experience by also facilitating couples with communal activities, housekeeping facilities, regular home maintenance, and various other amenities included in the living costs.
Since independent living in active adult communities doesn't feature full-time care for senior couples, it's generally more affordable than other senior living options for couples.
Highly Recommended: The Club
Retirement Communities With Recreational Amenities
Active adults often look forward to living a luxurious lifestyle when searching for retirement communities. This is especially true for senior couples finally exiting the labor market and wanting to focus on spending more time with each other in an environment that supports their luxury and well-being. One of the best senior living options for such couples is a senior living community located in an area with stunning views.
These are highly sophisticated retirement communities that are meant to provide elderly couples with all the amenities they need when it comes to fitness, well-being, home maintenance, communal navigation, and socialization. You can even enjoy golf courses, walk around spacious neighborhoods, and take advantage of facilities like gyms, swimming pools, and clubs for senior couples to spend quality time with new friends and other community members.
This allows a couple to enjoy each other's company by residing in the same senior living community and getting a wide range of recreational facilities at the same time.
These retirement communities are also an excellent senior living option for couples who require social and emotional support. These communities often organize activities and events for like-minded individuals to come together, socialize, and engage in games they're likely to enjoy as a community.
It's safe to say that these facilities cost more than the ones with little to no facilities for recreation and physical activity. However, determining an accurate price of a home in such a community can be challenging since it usually depends on the extent of luxury and extravagance the senior couple is receiving.
Highly Recommended: Sun Lakes Country Club
Senior Living Communities with Top-Notch Attractions for Couples
Many individuals look for senior living options for couples that don't only ensure optimal comfort and safety but also have attractions like breathtaking views, outdoor activities, and fitness areas that they can spend their time in.
These are adult retirement communities equipped with state-of-the-art equipment, services, and activities that a senior couple will never get bored of. This is a good senior living option for couples who struggle to find activities to fill up their newfound free time.
It's crucial to know that senior living communities for couples should always offer homes that are in close proximity to social centers and clubhouses. These homes can often add to the improved mental well-being of active adults and senior couples looking to make new friends and enjoy game nights in a well-suited environment.
The average cost of living in such a retirement community is a bit higher than what you'd expect in a regular senior living community.
Highly Recommended: The Colony
Things to Remember When Considering Senior Living Options for Couples
When you're browsing through several senior living options for couples, it's important to make an informed decision and choose what matches their lifestyle needs the most. Here are some of the key things to remember when finding the ideal senior living communities for adults.
Start Searching Early
It's never the best idea to find a senior living community on an urgent basis. You must take some time to go through different senior living options for couples, assess their amenities, and determine the right one according to the lifestyle requirements of the elderly couple.
Ensure Maximum Comfort and Lifestyle Compatibility
The senior living option for couples you choose should be designed to enhance the lifestyle and improve the comfort levels of active adults and partners. This includes the right home size, socialization within a retirement community, and home maintenance tasks.
Evaluate All the Ways a Senior Couple Can Enjoy
When you're looking for senior living options for couples to ensure their optimal well-being, it's important to take a closer look at the kind of amenities and luxuries they'll be receiving once they move in. This means scheduling a visit to the retirement community and asking questions to be sure about the community you're choosing.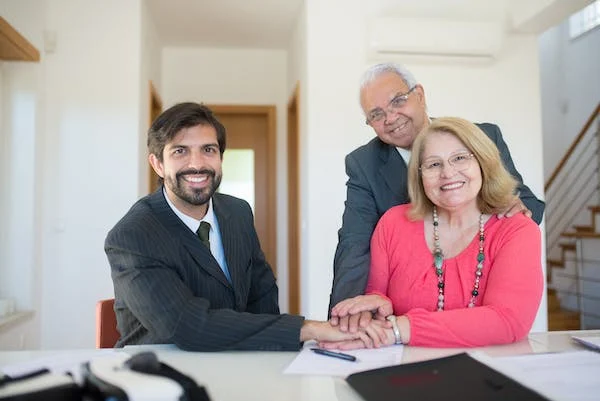 Get Started by Choosing Our Senior Living Communities in California
If you're looking for senior living options for couples to meet your needs for proper safety, luxury, and socialization, make sure you connect with our professionals at California 55 Plus Homes. Our website is a leading online platform to easily find active adult retirement communities and senior living homes for individuals, couples, and families. Contact us today!